Time for a New Us
I'm the MD of EasyMediaUK, Nate Blackburn.I'm so thankful to be working on projects that I love and I'm very proud to be respected nationally as a marketing expert by many customers – not many people wake up in a morning excited to go to work, so I'm very lucky that I do.
Since it was created, my marketing agency has had one solid brand and it has served my team well… it is now 2017, almost 2018 and it is time for a change. Our previous logos, with the bubble theme, have served us well and I'm sad to see them retire.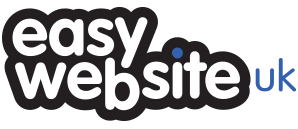 But it is time to look to the future as we have now got our new image.

During the past few years, we as a company have learned lots about what customers need in order to succeed through marketing. That is why we have refined our service offering into four key areas…
PR & Marketing
Under the brand of EasyMediaUK and our PR / Marketing service, we offer Press Release creation, digital marketing, printing and 'supportive marketing'. This includes telephone answering and SMS text messages.
Website Design
Our web design service is our roots, it is where we started. That's why we wouldn't let go of our name 'EasyWebsiteUK'.

Social Media Management
Our Social Media service generates traffic to websites for our clients. We're both creative and innovative and we add value to any social media campaign with our can-do attitude and our outside-the-box ideas.

Business CRM Software
Our CRM software is one of, if not, the cheapest bespoke CRM solutions on the market – not to mention the best! If it can be done, we will do it. From managing customers and orders to GPS tracking and alerting / integrations, we've got you covered.

This is an exciting time for us as we get used to our new look. We would like to thank all of our customers for their continued support and look forward to developing some beautiful brands in the near future.